AMD Ryzen Pro 6000 processors, the business-oriented processors for mobile form factors with a focus on enterprise-grade security have been announced. This announcement comes a few months after the announcement of the Ryzen 6000 mobile processors which is a huge launch for AMD considering the number of upgraded IPs being included in the Ryzen 6000 processors. The Ryzen Pro 6000 processors will feature AMD Zen 3+ cores that are geared to provide a lot more performance while ensuring energy efficiency. Being a business-oriented processor family, the Ryzen Pro 6000 processors have enterprise-grade security and manageability features such as AMD Memory Guard, AMD Secure Processor, etc. and support for OS security features such as the Microsoft Pluton chip and also for OEM security features such as ThinkShield. Laptops featuring the new AMD Ryzen Pro 6000 processors will be available starting Q2-2022. AMD is also launching a few additional Ryzen 5000 processors in the U-series which will also have Pro variants.
AMD Ryzen Pro 6000 mobile processor SKUs
The AMD Ryzen Pro 6000 mobile family launch will feature eight new processors across the Ryzen Pro 6000 H-Series and U-Series. Within the H-Series, you will also see the H and HS variants across the stack. Here's what the launch roster looks like.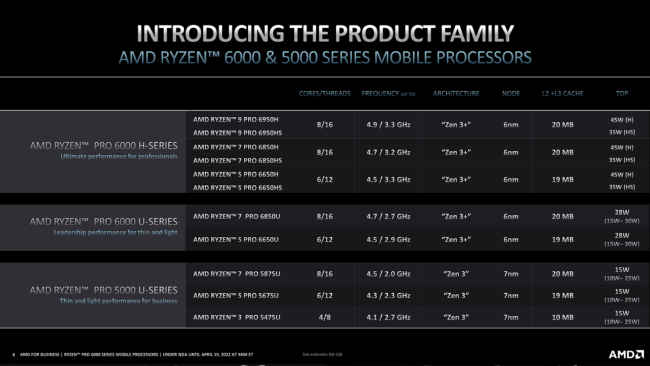 The processor with the highest TDP in the Ryzen Pro 6000 launch stack happens to be the AMD Ryzen 9 PRO 6950H which is an 8-Core / 16-Thread processor with 20 MB of L2+L3 cache. Like the Ryzen 5000 mobile processors, the SKUs ending with the suffix H are designed for a TDP of 45 W and the units with an 'HS' at the end are designed for 35 W systems. 
Even the U-series processor can have up to 8-Cores / 16-Threads, so there's a lot of options for folks who wish to get low-power designs with high core-counts. The U-series processors are typically rated for 28 W but can be configured between 15 to 30 Watts.
Also, we can see that there are no Ryzen 3 SKUs within the Ryzen Pro 6000 family with the only Ryzen 3 processor being the new addition from the Ryzen Pro 5000 family i.e. the AMD Ryzen 3 Pro 5475U.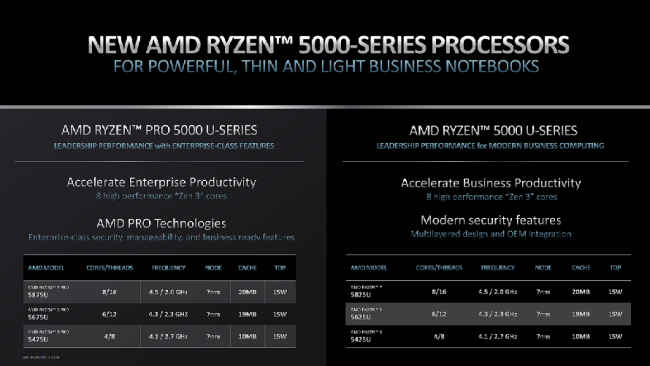 As for the three new Ryzen 5000 mobile processors, these are still based on the 'Zen 3' microarchitecture and will benefit from the security and manageability features that are present across the 'Pro' family.
AMD Ryzen Pro 6000 performance
Compared to the Ryzen Pro 5000 processors, the new Ryzen Pro 6000 processors will feature up to 1.1x the CPU performance when the TDP is kept at a uniform 15 Watts and if configured to 28 Watts, then the performance can go up to 1.3x. 
As for the GPU performance, that can scale from 1.5x to 2.1x depending on whether the TDP is set to 15 Watts or 28 Watts. These numbers were obtained by AMD by comparing the AMD Ryzen Pro 5850U against the AMD Ryzen Pro 6850U. Both processors compared here have 8-Cores / 16-Threads