The latest update of Google Maps, lets the users check for the Air Quality Index (AQI) of any particular area. The update is made available on both Android and IOS. This new update also lets the users know about what the air is actually like-smoky, bad, or simply breathable. 
Earlier this month Google added some fascinating features to its Pixel smartphones, such as updated sound amplifiers, and flashlight reminders. Among these was the Air Quality Index indicator, which as the name suggests provided the users with the information regarding the air quality. Now the company has brought this feature to Android and iPhones as well.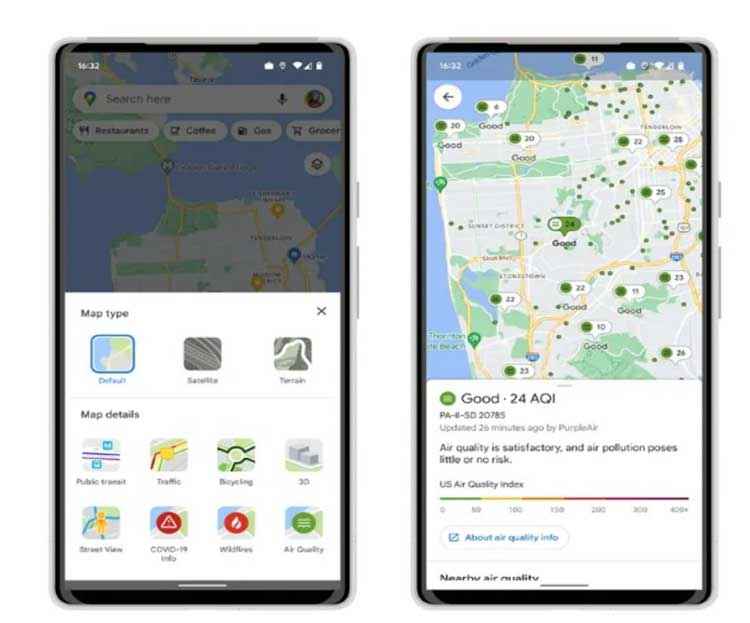 The company on Thursday announced that they are bringing this particular feature to Google Maps in order to check the air quality of any area the user wants to. The details will include measuring the AQI and checking how healthy or unhealthy the air is along with the guidance on other activities. 
Currently, the feature is available in the US and some parts of Canada. As per Google, the information comes from trusted government agencies, which includes the Environmental Protection Agency in the US. The aim of this feature is to help users make an informed decision about whether it's safe to go on outdoor adventures or not. Along with government agencies, Google is also planning to show air quality information from PurpleAir-a low-cost sensor network which gives a more hyperlocal view of conditions. 
How to find the Air Quality Index on Google Maps:
In order to add the air quality feature on your maps, tap on the button on the right-hand corner of the screen, then proceed to select the Air Quality under Map details. 
The new update also includes information regarding the raging wildfires in an area. This update lets the user see the possible updates about active fires in the area. Google has partnered with National Interagency Fire Center (NIFC). In a blogpost, Google also mentioned that the users can search for "wildfires near me", and using appropriate air quality data along with useful information regarding the fires they will be provided with the necessary information.