Reliance Jio is one of the greatest telecom players in India. The company comes with several prepaid plans that offer a variety of services for its users. Most of these prepaid plans come with a daily data limit. This means that one needs to spend daily data carefully so as not to exhaust their daily limit. Once the daily data limit is reached the speed goes down considerably and the internet is almost unusable. 
Jio also has several unlimited data plans to address this problem. We have all gone through this issue of exhausting our daily data limit and have to rely on slowed internet for the rest of the day. There are a few prepaid plans that offer unlimited 4G data or no caps on daily data usage. In this article, we take a look at those prepaid plans. 
List of Jio Unlimited Data Recharge Plans with No Daily Limits
₹296 Jio Prepaid Plan
Reliance Jio currently has one plan that does not set a daily limit on data. Customers are given a set amount of data limit for the validity period, but there is no cap on the daily usage. The plan comes with a recharge of ₹296. This plan will get you unlimited calls, 100 SMS per day and a total of 25GB 4G data for a period of 30 days.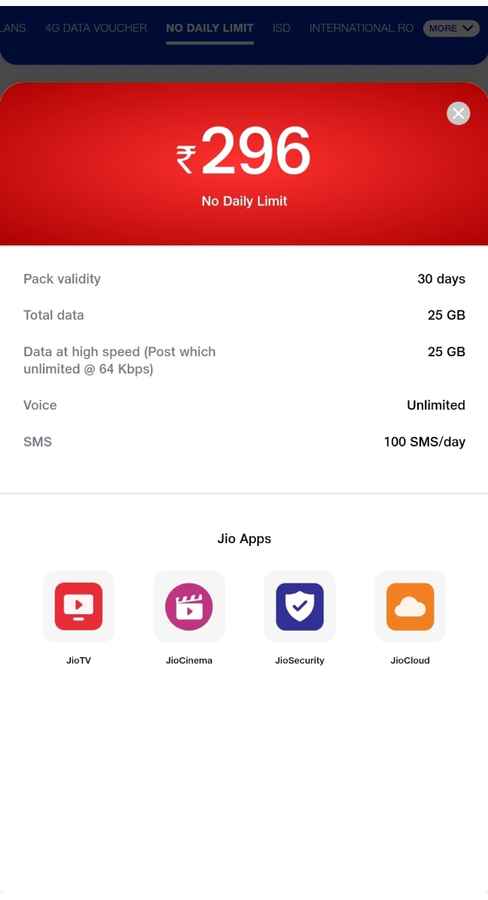 Once the data limit of 25GB is exhausted you can still surf the internet at a reduced speed of 64 Kbps. The plan also comes with added benefits of a free subscription to JioTV, JioCinema, JioSecurity and JioCloud applications on your smartphone. This unlimited data plan is great for intermittent users of the internet who do not need a set amount of data per day. 
Reliance Jio Data Add-on Voucher Plans
Reliance Jio is offering its users some voucher plans on 4G data that come without a daily limit. These plans are data only. Here are the plans. 
₹181 – This plan comes with a validity of 30 days and is offering 30GB of 4G data.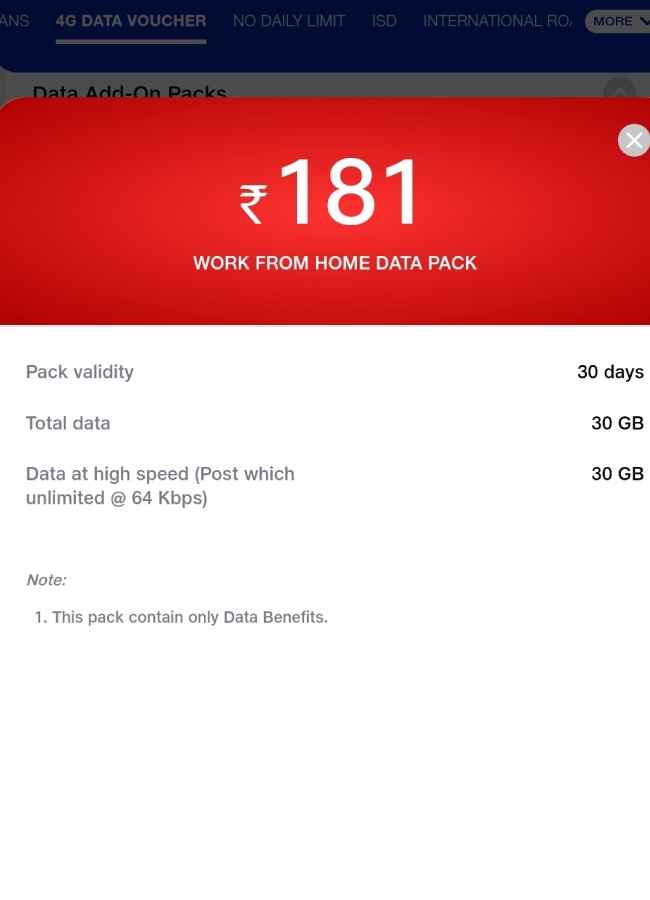 ₹241 – This voucher comes with 40GB of 4G data for a validity period of 30 days.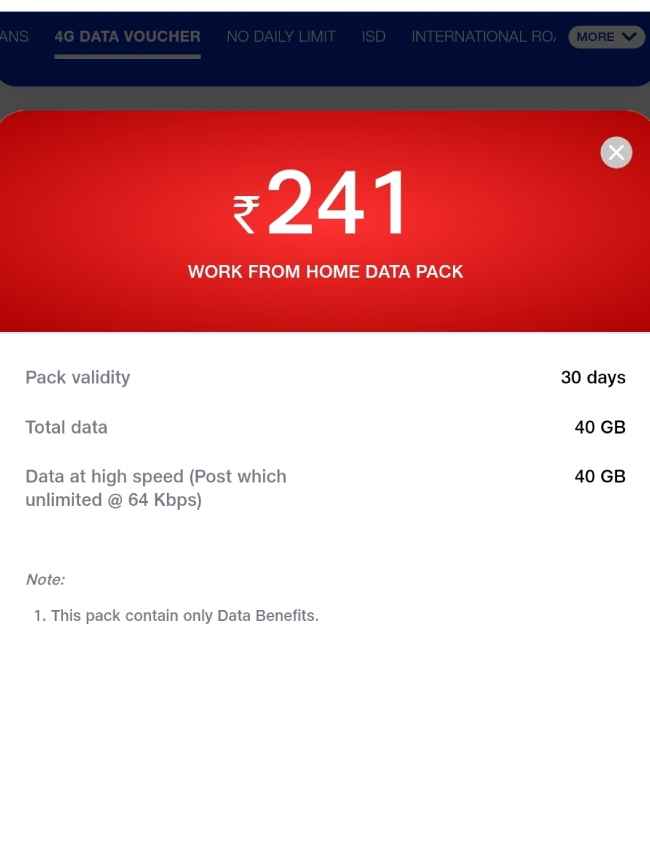 ₹301 – The 301 recharge plan offers 50GB of 4G data and has a validity period of 30 days.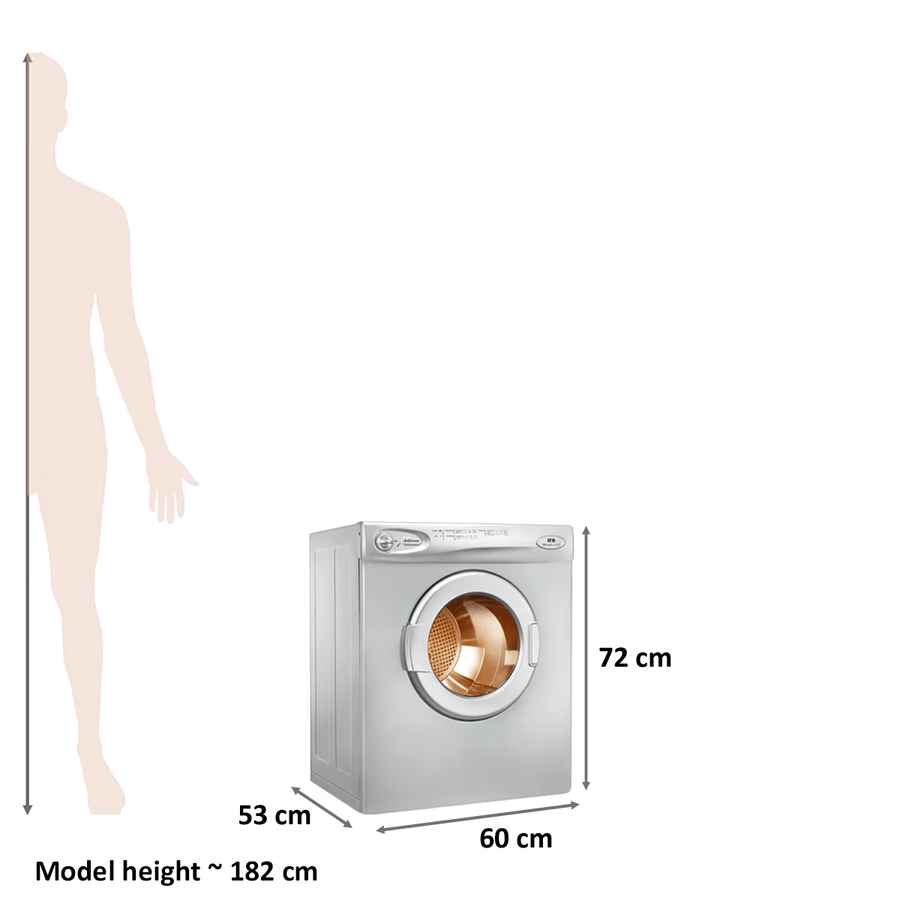 ₹555 – This plan offers 55GB of 4G data for a period of 55 days. This plan is most beneficial as it comes bundled with 3 months of Disney+ Hotstar Mobile subscription, JioTV, JioSecurity and Jio Cinema.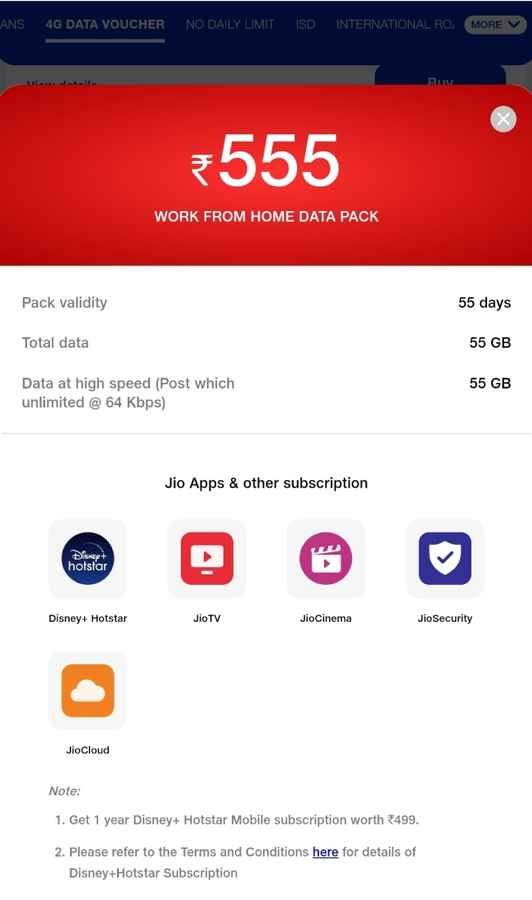 ₹2878 – This is a long-term plan that offers 730GB of data for a validity period of 365 days.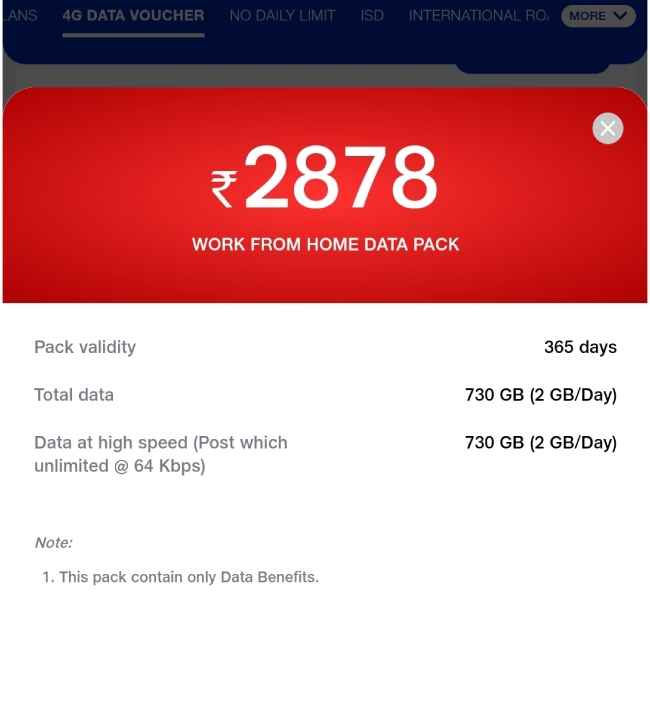 ₹2998 – This is Jio's second long-term offering for a validity period of 365 days. This plan offers 912.5GB of 4G data.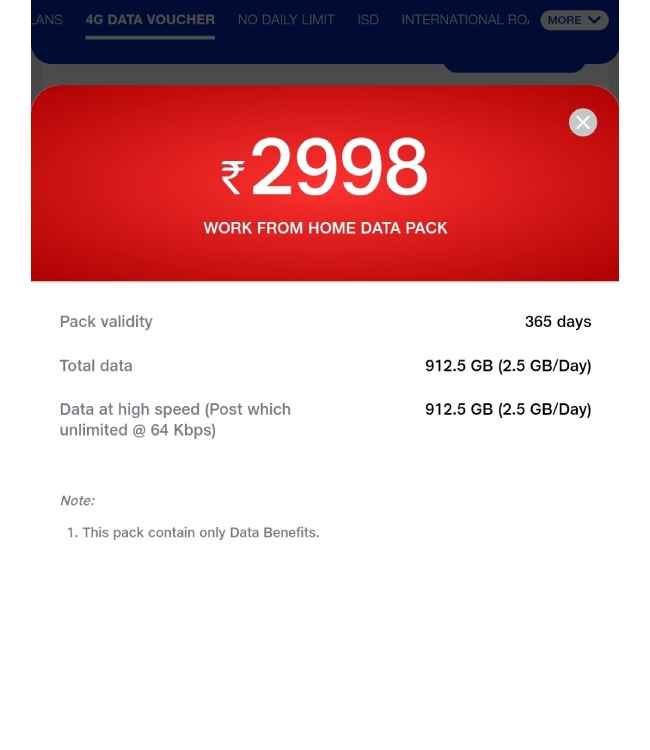 Unlimited Jio recharge plans are set to take care of your work-from-home needs and the 4G data vouchers will cater to the excessive need for data beyond a daily set limit. Exhausting your daily set limit can be frustrating with the slow 64 Kbps internet connection coming in, so these recharge plans can help you out during the time of need.