On July 23, this Amazon Prime Day 2022, LG will introduce its new line of Gram laptops. Intel Evo platform and 12th Gen Intel Core i7 CPUs will power the ultra thin, light, and portable laptops. They will all be equipped with NVMe Gen 4 SSD storage and LPDDR5 RAM.
As part of the updated portfolio, LG has introduced four new models, the LG Gram 17 (17Z90Q), LG Gram 16 (16Z90Q), LG Gram 16 2-in-1 (16T90Q), and the LG Gram 14 (14Z90Q).
In a statement, Hak Hyun Kim, Director, Home Entertainment- LG Electronics India said, "LG Gram has been designed to maximise consumer usability. The new models with additional features like facial recognition and noise cancellation aim at transforming the user experience. We provide our customers with the latest cutting-edge technology to enhance their lifestyle. We believe this new 2022 LG Gram lineup will set new standards in user experience, and we are confident our customers will love it."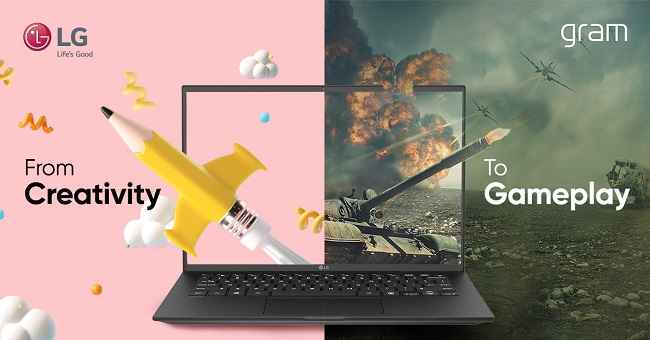 LG Gram Laptop tp launch on Amazon Prime Day Sale 2022
While the LG Gram 14 has a WUXGA (1920×1200 resolution) screen, the LG Gram 17 and Gram 16 both have high-resolution WQXGA (2560×1600 resolution) screens. All of the laptops support 99.9% of the DCI-P3 colour space. Furthermore, the laptops have an HD IR webcam and anti-glare display screens to reduce glare and undesired reflections. Also included on all three models are AI features such as AI noise suppression, LG Glance by Mirametrix, and face login. All three models have USB-C ports for charging and support Thunderbolt 4.
Despite having a 17-inch screen, the flagship Gram 17 weighs only 1,350 g, while the Gram 16 and Gram 14 weigh 1,199 g and 999 g, respectively. All four versions offer a screen-to-body ratio of 90% thanks to their small bezels and concealed hinges. All laptops have full metal bodies constructed of magnesium alloy and designed to meet the MIL-STD-810G requirements for functionality and durability. The LG Gram series will start at Rs 94,999 upon launch.