A month ago some of the most dangerous adware and data-stealing malware apps were uncovered by cybersecurity researchers. Shockingly, some of these malware apps are still available on the Google Play Store. In a recent report by Bleeping Computer, it has been observed that these apps have garnered more than two million downloads. It is important to note that these malware apps often have the capability of spyware, which means they can steal data from other apps present on your device. 
Malware apps pose a serious threat to privacy and security on Android smartphones. A Dr Web antivirus report from May 2022 has revealed that the adware apps and data-stealing spyware are the biggest threat to Android devices.  
How does Android malware work?
Android is not a secure platform. Users have the ability to go through millions of software and also sideload apps according to their needs. This makes the Play Store and Android a thriving breeding ground for malware. 
An adware malware downloaded from the Google Play Store can make your life miserable. Unwanted advertisements will be all over your phone. Your battery will be overused, the phone might heat up and it will definitely spoil the user experience. It can also cause unauthorised financial transactions. It can make money for remote operators as the user taps on the affiliated advertisements. 
Malware can also steal from other applications that might contain sensitive information. This is dangerous as the privacy of the user is being breached. Login credentials of frequently visited websites can be stolen if treacherous malware is present on your Android device. These include social media accounts and banking websites. Data-stealing malware or spyware is very dangerous as it can trade your personal information. Malware often masquerades itself as something else on your phone, so that you are not able to spot the source of your problem. 
List of Malware Apps on Google Play Store
There are several apps on Google Play Store that are known as malware apps. The report mentions 5 of them, and the threats they pose to your Android device. They are still available on the Play Store. 
PIP Pic Camera Photo Editor: This application has managed to generate more than 1 million downloads. The malware will hide in the photo editing software and act as spyware. It can steal your Facebook login credentials. 
Wild & Exotic Animal Wallpaper: It is one of the masquerading adware that, once downloaded, will change its name to 'SIM Tool Kit' and add itself to the battery-saving exceptions list. It is impossible to spot the malware after you have installed it. This adware has more than 500,000 downloads. 
Zodi Horoscope – Fortune Finder: This is another malware similar to PIP Photo Editor. This has the capability to steal your login credentials on social media accounts like Facebook. This data-stealing spyware also has more than 500,000 downloads. 
PIP Camera 2022: This camera effects application, which has malware embedded in it, is essentially a Facebook account hijacker. This app has crossed more than 50,000 downloads. 
Magnifier Flashlight: This is an adware app that will overflow your Android device with video and static ads. Magnifier Flashlight has crossed 10,000 downloads.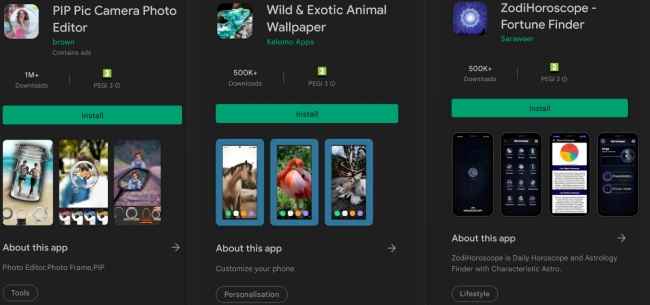 The Bleeping Computer report has asked users to be wary of these five apps and delete them instantly if they have them already installed. It is important to stay away from spyware and adware in this digital age to be secure on the internet. Security and privacy breaches can lead to data loss and other harassment. Thus, it is important to steer clear of doubtful applications which appear similar to the above five. 
Once you delete the malware applications, run a full scan on your Android smartphone for the complete deletion of the malware, which might remain undetected.