According to Emojipedia, 31 new emojis are up for addition to Unicode 15 standard. While 31 may seem like a lot, it's actually a lot less – almost a third of the number – that was submitted for approval last year. In fact, it's the smallest number ever submitted for inclusion in the standard. While we don't have any information as to why there are so few additions to the list, the options that are being added are things people have been wanting for some time now.
Out of the 31 new emojis, a few immediately stand out – a selection of new heart emojis, shaking face, wireless and a pair of pushing hands; a proper representation of the high-five. Up until now, the folded hands emoji has been used as a high-five, but it was intended to be used as a representation for prayer, thanks, praise etc.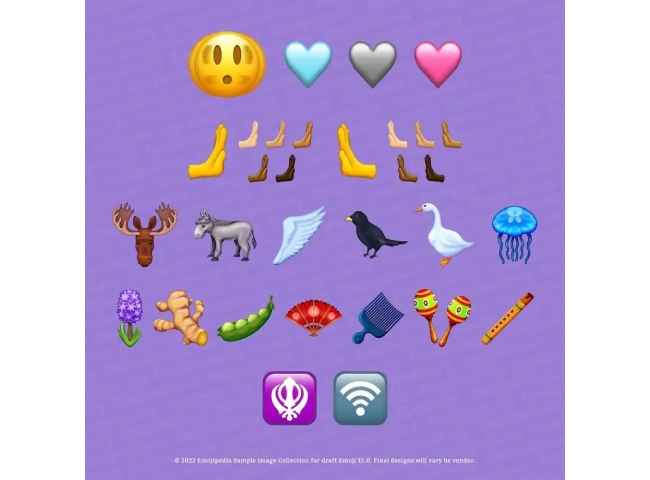 New Emojis coming to iOS and Android
The list of 31 emojis (which also includes the skin tone variants) which are awaiting approval in Unicode 15 is still currently in the draft phase. With the deadline coming up in September, things can still change. However, according to Emojipedia, pretty much all options usually make the cut.
Below is a list of all the emojis up for approval:
Shaking Face
Light Blue Heart
Grey Heart
Pink Heart
Rightwards Pushing Hand (with five skin tones)
Leftwards Pushing Hand (with five skin tones)
Moose
Donkey
Wing
Goose
Jellyfish
Ginger
Hyacinth
Pea Pod
Folding Hand Fan
Hair Pick
Maracas
Flute
Khanda
Wireless
Black Bird
Android and iOS will be the first platforms to adopt Unicode 15 emojis when they're finalized. The timing will coincide with Apple's iOS 16 release and should be a short while after Android 13 starts rolling out.