Samsung has announced its new Gaming Hub for its Smart TVs and monitors that launched in 2022. Samsung has been hyping up its upcoming Smart TV Gaming Hub since CES, and the official launch is finally here. With the Samsung Gaming Hub, users of 2022 Samsung Smart TVs and monitors get access to a plethora of streaming apps in a single location. The services include Google Stadia, NVIDIA GeForce Now, Xbox Cloud Gaming, Twitch, and Utomik. Amazon Luna is not on the list so far, but Samsung has clarified that it is coming soon to Samsung's Gaming Hub UI. 
Samsung Gaming Hub: Everything you need to know
The Samsung Gaming Hub has finally been announced and the platform will be powered by Tizen. It allows users access to games from Xbox, GeForce Now, Stadia, and Utomik, with Amazon Luna support on the way. Samsung has already confirmed that Bluetooth headsets and controllers can be integrated with the Gaming Hub. The Hub will also offer AI-based suggestions based on popular games. 
The Hub is also capable of AI upscaling, for both 4K and 8K resolutions. Equipped with Samsung's new technology, the latest line of supported TVs offer faster decoding and better buffer control – allowing for seamless gameplay over the internet since the input lag is cut down by more than 30 per cent. Only a handful of Samsung Smart TVs and monitors are supported though, so if you have any TVs or monitors from the company's 2022 lineup, you can give the Gaming Hub a whirl now.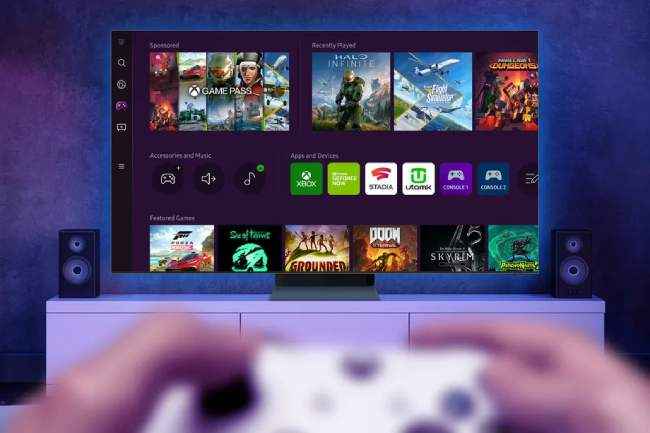 While a variety of TVs on the market have support for Stadia, GeForce Now, and Twitch, the Samsung Gaming Hub is the only one to feature the Xbox app which provides access to Xbox Cloud Gaming. Users can play hundreds of cloud Xbox Game Pass games without owning a console. Some games include Halo Infinite, Forza Horizon 5, and Microsoft Flight Simulator. NVIDIA is also adding some new games to its GeForce Now platform including Alaloth: Champions of The Four Kingdoms, Disgaea 6 Complete, Card Shark, KartKraft, Hotline Miami, and NASCAR 21: Ignition.
The Gaming Hub merges other forms of entertainment alongside streaming services, giving users access to platforms such as YouTube, Twitch and Spotify as well.
Won-Jin Lee, President and Head of the Service Business Team at Samsung Electronics spoke about the announcement and said, "The Samsung Gaming Hub combines Samsung's leadership in streaming technology with our experience in creating the industry's most cutting-edge hardware, removing the barriers to entry so people can just play. With expanding partnerships across leading game streaming services and expert-curated recommendations, players will be able to easily browse and discover games from the widest selection available, regardless of platform."