ZEE5 has become one of India's most popular streaming platforms. Essel Group owns the on-demand video streaming service, launched in India in 2018. Since then, the platform has offered a plethora of intriguing Originals, movies, TV shows, and other content. The OTT platform is accessible via all major platforms, including Android, iOS, Amazon Fire TV, Android TV, and others. With the application, the company provides free and premium content to its users.
Those who want to experience everything can opt for the ZEE5 Premium subscription. The subscription model has several intriguing advantages. To begin, subscribers have access to all Zee5 originals and exclusives, as well as blockbuster movies such as Radhe, shows such as Friends: Reunion, all ALT Balaji Shows, Zindagi TV Shows, Kids, Live TV, and TV shows before they air. Let's go over every aspect of the ZEE5 Premium subscription.
ZEE Subscription Plans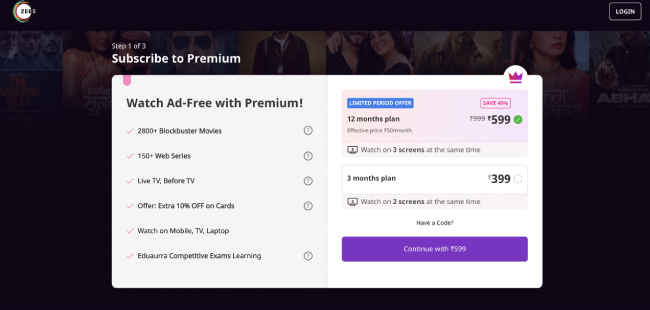 ZEE5 Yearly Plan – ₹599.
ZEE offers only one annual subscription plan to its subscribers as of now. The pack costs ₹599 for an annual subscription. With this subscription, you get over 2800+ movies, 150+ web series and so much more at no extra cost. Customers also get access to live tv with the ZEE5 yearly plan and can use it on three separate devices. 
ZEE5 3-Month Plan – ₹399
Customers can also choose a quarterly payment plan from the company. The pack includes all of the benefits of the annual plan, but it is only valid for three months. You will be charged ₹399 for the subscription. In terms of benefits, you will have free access to over 2800 movies, 150 web series, and other content. With the ZEE5 Premium subscription, one can also watch Live TV channels. Users can also watch on two devices at the same time, according to the company.
Frequently Asked Questions
Can you watch live tv on ZEE5?
Yes, ZEE5 allows you to watch live tv using their subscription on either plan. You get access to over 90 live channels on all platforms.
What is the device limit for the ZEE5 Subscription?
With the annual subscription, you get ZEE5 for three separate devices, which is available for ₹599. The quarterly subscription of ZEE5 lets you use it on two separate devices, which is available for ₹399.
Will I be able to cancel my subscription at any time?
Yes, you can cancel your ZEE5 subscription at any given time, however, one thing to note is that you will not be refunded in case of a cancellation. 
Tap on the hamburger option in the ZEE5 app
Go to My Accounts>My Active Plans
Click on 'Cancel Subscription' and click Yes to confirm your cancellation. 



Source link